Google My Business listings provide local businesses with the power to manage how their business appears on Google Search and Google Maps by allowing them to claim a business listing. Google My Business is a priceless (both literally and figuratively) tool for local businesses of all industries.
With 46% of all Google searches seeking local information, this is a tool that every local business should take advantage of if they want to be considered by prospective clients. By applying a few tips in this blog, you can take your business listing to the next level to generate new business!
What is a Google My Business Listing?
Google My Business is a free local online directory run by the world's largest search engine, Google. A Google My Business listing provides essential details for potential customers, including a business's address, phone number, hours of operation, and even customer reviews. These listings are displayed in Google's "local pack" which is separated from organic search results.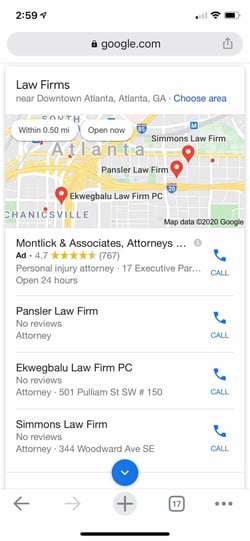 If you haven't already claimed and set up a Google My Business Listing for your business, click here to download our free guide The Step-by-Step Guide for Creating & Optimizing a Google My Business Listing to learn how to get started.
If you already have a Google My Business listing but are ready to take it to the next level, the following nine steps will help you better reach prospective customers who are searching for your services using the Google search engine:
Tips for Attracting More Prospects from Your Google My Business Listing
1. Fill out your entire profile and keep it updated
Your Google My Business listing should act as a resource for current and prospective customers, which is why it's crucial to keep it up to date with as much information as possible. Prospects want to see beyond your business's basic contact information and business hours to gain insight into who your business is and the services that you provide.
After making sure your basic information is complete and accurate, go an extra step by filling in more descriptive information including the services you offer, a brief description of your business, a link to book an appointment and even unique highlights that Google offers to set you apart from other businesses such as "black-owned," "women-led" and others. This can all be easily updated within the "Info" section of your Google My Business account.
2. Add photos and videos of your business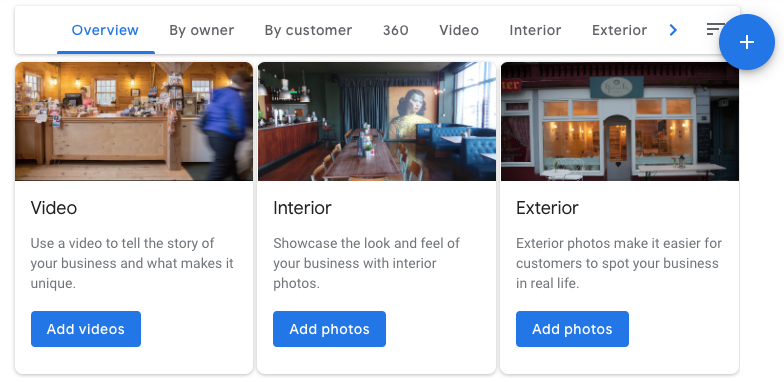 When potential customers find your business in their Google search, they want to see photos and videos of your business for a few reasons. First, it proves that you are an operating business, which will provide a sense of comfort for people interested in visiting your location. Second, it allows you to showcase your business, your employees and your location.
Beyond your logo, Google My Business suggests a few different types of photos and videos that you should consider uploading. These include:
Exterior photos
Interior photos
Product photos
Photos at work
Team photos
You will also notice that your customers will be able to add photos to your listing. These photos will be categorized into their own section so they stand apart from your business's uploaded photos. By encouraging your customers to upload photos during their visit, you can add social proof to your Google My Business listing.
3. Post updates to your Google My Business page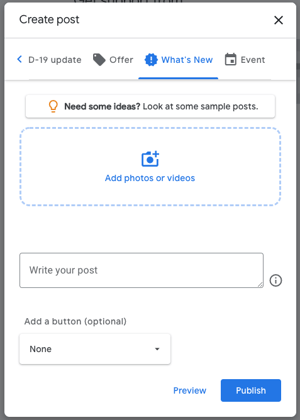 Google My Business allows you to post various updates to your listing. These updates can include a photo or video, a description and even a call-to-action button.
Update: One of the most common posts that you can add to your Google My Business listing is an update of what's new with your business. This is a great way to make special announcements by sharing a text and/or image post to your listing.
Offer: If your business ever runs specials or sales, you can advertise these offers directly on your Google My Business listing. These offer updates will appear at the top of your listing on both Google Search and Maps, as well as under the updates section of your listing.
Events: Google My Business also allows you to easily advertise any upcoming events that your business is hosting. Simply add a title for the event, any photos or videos, the date of the event, details, and a call-to-action button.
4. Keep customers updated on how you are handling COVID-19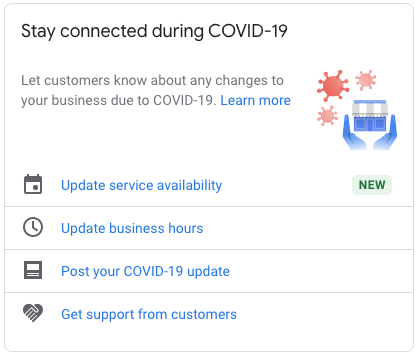 Google has gone above and beyond in allowing local businesses to communicate precautions that they are taking due to the COVID-19 pandemic. The two updates below were added by Google to help customers find the information they need when selecting a business during the pandemic:
COVID-19 update: This update lets customers know about any COVID-19 changes you've taken at your business. This can include any temporary closures, changes to your hours, safety and hygiene precautions and more.
COVID-19 support: For those local businesses who are greatly affected by the pandemic, Google My Business has added a special update that allows your customers to buy gift cards or make donations to the business. If this interests you, you can add a message that explains why a donation will help, and then include a link to either purchase a gift card or make a donation.
5. Encourage customers to leave reviews
One of the most important aspects of your Google My Business listing is the social proof that your customers' reviews and star ratings provide. In fact, the average consumer reads 10 reviews before feeling able to trust a business.
Your business needs to create a solid strategy to ask happy customers to write a positive review on your Google My Business listing. This can be done by sending an automated email after they have visited your business that includes a link to post a review.

Google My Business also offers a free downloadable Marketing Kit that you can use to help drive more reviews. This kit includes custom posters, stickers, social posts and more. All you have to do is download the marketing kit to get access to the in-store assets and social media posts.
6. Respond to reviews and answer questions

Of the consumers that read reviews, 97% also read the business' responses to reviews. Luckily, Google My Business allows you to seamlessly respond to your business's new reviews directly from your profile.
Always make sure to respond to your positive ratings, but keep in mind that not all reviews will be five stars. To prepare for low ratings, you should set up a response strategy that allows your business to take responsibility for the situation, offer to discuss the complaint privately, and let the customer know your business cares.
In addition to reviews, Google My Business also allows your customers to ask questions that will show up on your listing. Make sure to always respond to these questions, as it is likely that more of your customers are interested in finding an answer to the same questions.
7. Reach a larger audience with Google Ads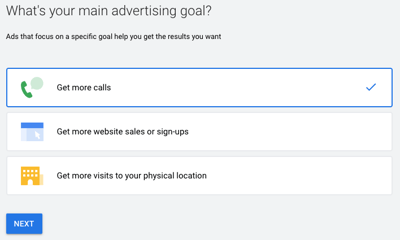 For local businesses, who want to take their listing to the next level and are okay with spending a bit of money, Google Ads are a great option. Advertising on Google is one of the best ways to ensure your business gets in front of potential customers as they are searching for the services that you offer and in your local area.
There are a few different goals that you can achieve using Google Ads, including:
Get more calls
Get more website sales or sign-ups
Get more visits to your physical location
One of the best parts of Google Ads is that you only pay for results, meaning you will only be charged when someone clicks to visit your website or to call your business (depending on which advertising goal you initially choose). It's also very easy to make sure that it fits within your marketing budget by setting monthly budget caps. However, depending on the competition in your industry, the cost-per-click for your Google Ads may be very high.
8. Add a 360º interactive experience of your business with Google Virtual Tours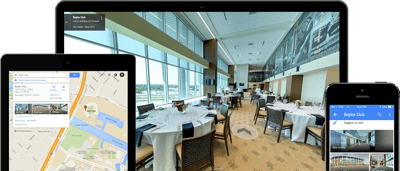 Image Source: Organized Pixels
One of Google My Business's other paid offerings is Google Virtual Tours. With this offering, Google will connect you with trusted photographers in your area that will assist you in creating a virtual tour of your location shown on your listing. They will also create a "Street View" of your business that creates a visual, 3D view of your business on Google Maps. To add this feature, simply click the "Get started" button on the Google Virtual Tours section of your Google My Business profile's home screen
9. Enable messaging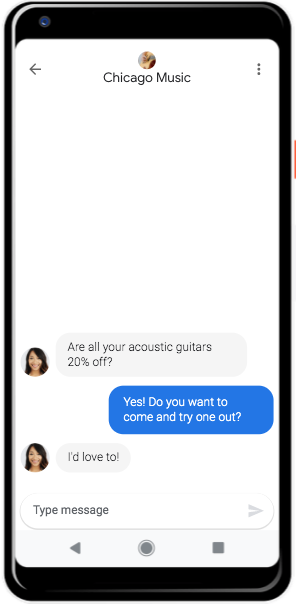 Image Source: https://www.google.com/business/
Google My Business offers a messaging feature to allow real-time conversations with visitors of your Google My Business listing. The messaging feature is a great way for prospective customers to ask you questions and for you to tell your business's story to attract more quality customers.
If enabled, customers can easily start a message with your business from a "Message" button on your Business profile. Notifications of these messages will be sent to you in the Google My Business app so to use this feature you must have the iOS or Android app downloaded on your phone.
Conclusion
Google My Business is one of the most helpful free tools for a local business to generate new revenue. A listing ensures that your business shows up in Google Search and Maps so prospective customers who need your services can find you. By completing your listing and using the steps above to optimize it, you'll be able to increase the effectiveness of your Google My Business listing to obtain quality customers!
---