At RocketLevel we've learned that local business owners have extensive knowledge of their trade, but many times don't have the marketing knowledge necessary to grow their business. Most are simply maintaining their businesses because they don't have the time available to learn marketing skills that will boost their customer acquisition and overall growth.
That's why RocketLevel is excited to launch RAD Academy, an online marketing education hub that provides bite-sized courses built to turn local business owners into marketing experts - all on their own time.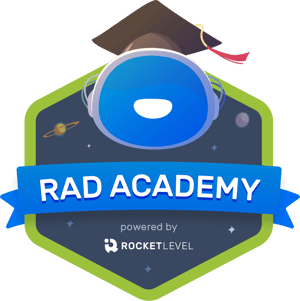 RAD Academy courses contain easy-to-consume lessons that include quizzes and worksheets on various marketing and business growth topics including how to:
Build an online presence
Convert website visitors into customers
Grow revenue
Retain happy customers
...and more!
RocketLevel's goal has always been to empower local businesses with the knowledge, gameplan and tools to grow their business. RAD Academy is an extension of the knowledge portion of this RocketLevel promise and is currently available to all RocketLevel users with an active monthly subscription.
To get started with RocketLevel and to gain access to RAD Academy, local businesses can visit https://info.rocketlevel.com/request-a-demo/.