The modern buyer's journey to choose a law firm encompasses many different digital channels. The website, however, is an extremely important channel because it acts as the central hub for a law firm's online presence.
Websites are a necessity for law firms that want to grow their business. In fact, it has been found that prospective and current clients today are more likely to choose a law firm that has a website, when compared to one that doesn't.
That's why it's beneficial for law firms to understand where a website fits into a digital marketing strategy, as well as what information should be displayed on the website to increase conversion rates.
Using Your Website as a Resource for Prospective Clients
Law firm websites display a firm's brand and personality, build trust with prospective clients, and also answer prospective clients' questions. In many cases, a website may be the first marketing channel that a prospect visits, meaning it will provide the first impression of the firm.
Think of your website as a resource for your prospects. Your website's messaging shouldn't be all about you. Instead, it should be about the experience prospective clients will have with you and the results they can look forward to if they choose your firm for legal representation.
Also, because your website visitors will be in different stages of the buying journey, you should make sure to include information on your website that is built for each stage. By providing relevant information for each stage, you can nurture prospects further through the journey and increase your prospect to lead, and lead to client, conversion rates.
To help achieve these goals and to maximize conversion of your firm's website visitors into clients, we've compiled a list of 15 things that every law firm website needs to include to succeed:
1. Practice Area Pages

Each practice area page should provide more detail about your services. Your main menu may have a separate heading for this purpose. While some law firms focus on a niche, most law firms offer more than one practice area. For this reason, all of your practice areas need to be laid out in a simple format that answers the questions of utmost importance.
2. Attorney Bios (+ pictures)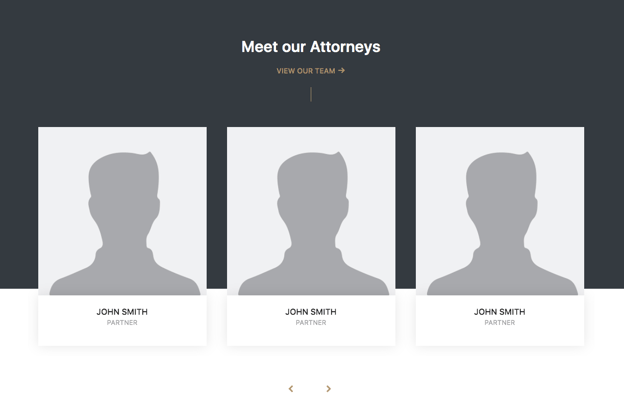 Prospective clients want to know exactly who they are hiring to help guide them through a complicated legal process. By displaying bios and pictures for each of your attorneys, you put faces to your firm allowing them to find comfort in knowing who they'll be dealing with. This is a great opportunity to build trust and credibility.
3. Case Results
List your top case results and successes on your website so users can get an idea of your accomplishments. By making this information visible, your prospects are likely to feel more confident in choosing you because you have proven results.
4. Social Proof Testimonial Quotes and Videos
We've already mentioned credibility. Testimonials and reviews further establish immediate credibility with your target audience. People want to be able to see and hear from others like them who have had a positive experience with your firm.
5. Awards and Accolades
Don't be afraid to brag! Prospective clients want to know that you've achieved great results which are reflected in awards you've won and associations you've been accepted to. Display logos and badges of your accomplishments on your website homepage and add a page or section that describes them in more detail.
6. Contact Information
Your website should make it very simple for clients to contact you. People today also prefer various forms of communication such as a phone call, text message, email or form submission. Your contact information should be prominently displayed on every page of your website and don't forget to include a separate "Contact Us" page.
7. Lead Magnet Download (for Lead Generation)
Include a lead magnet on your website's homepage to attract prospects who are still in the research process. Think about what your ideal prospect is researching and provide educational content (e-book, checklist, etc.) that can be downloaded in exchange for an email address.
8. Blogs and Articles
Similar to lead magnets, blogs are great resources for prospective clients who are still in the research phase. Blogs are also well-known for being great SEO boosters and are an easy way to provide answers to visitor questions.
9. Consultation Form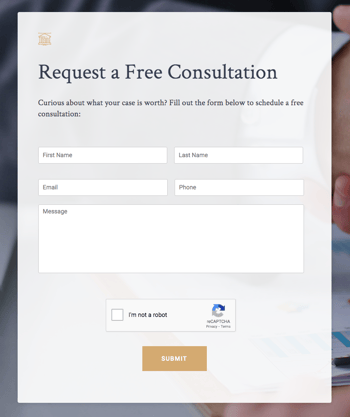 If your law firm offers initial consultations, include a form so prospects can request to schedule one. Make sure this is visible on your homepage, as well as all other pages so you are able to generate leads that are further down the customer journey and ready to choose a law firm for legal representation.
10. Social Media Links

Include links to your social media profiles in the footer of your website. This can help with SEO because it provides search engines with more data to determine the relevancy of your site with a search engine query. Plus, it makes your business more visible and allows prospects and clients to easily find and follow your social media accounts.
11. Process Page or Section
Make sure your web visitors know what to expect when working with you and what your law firm's process of engagement is. Searching for legal services can be stressful. Displaying your process can be as simple as listing out steps and should help them feel like they are in the right place.
12. Frequently Asked Questions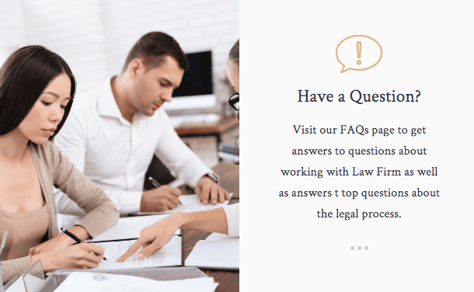 When having conversations with prospective clients, you're likely going to answer the same questions over and over. Usually these questions revolve around the process that will take place if the prospect becomes a client. Document these questions and add them to a FAQs page so you can answer questions before they're even asked.
13. Responsive Design
It may seem obvious, but many law firm websites today are not mobile-responsive. It is crucial that your site functions well and is easy to navigate on mobile devices, so you don't miss out on potential business opportunities.
14. Call Tracking
Aside from tracking website visitors, clicks, form submissions and other web analytics, you should also be tracking phone calls that are generated from your website. Call tracking tools record volume and frequency of calls plus analytics on the effectiveness of your website.
15. Call-to-Actions
Every page of your website should include a call-to-action (CTA) to encourage your visitor to take the next step on their buying journey. Depending on the website page, there are many CTAs that can be displayed including links to book a consultation, download a resource or even just learn more about your firm. Make sure your CTAs are enticing and noticeable so you can turn site visits into formal conversations.
---
While websites are a crucial part of today's customer journey, it is important to remember that websites should only be one piece of an omnichannel marketing strategy. Make sure your website connects seamlessly with your other marketing channels including email automation, text marketing, social media advertising and your overall online reputation.
By building a strategy that includes all of these pieces, you can effectively market across the customer journey in order to build brand awareness, generate leads, increase your client conversion rate and boost client satisfaction!
---