In the not-so-distant past, consumers looking to make a purchase pulled out the big yellow phone book to find a business that suited their needs. But today, in a world where more than four billion people own a mobile phone, buying habits have changed and research has moved to the internet. In fact, statistics show that 88 percent of consumers research online before buying locally, which means that having a website is crucial for small businesses who want to grow.
Potential auto repair customers are on the web searching for the best automotive products and services from the highest-rated auto repair shops. Maintaining an auto repair shop website is no longer a luxury, but a necessity. With the majority of the world vetting their decisions through the web, ensuring that you're accessible on the internet means you'll ultimately close more sales and grow overall as a business.
If you're still unsure that a website is right for your auto shop, check out the top six reasons why you should have a website:
1. Your customers expect you to have a website.
Nowadays, a website is essential to be considered in the minds of buyers because it demonstrates credibility. Did you know that 30 percent of consumers won't even consider making a purchase without a website? Even if car repairs still happen in person, a website is an expectation for auto repair shops.
2. Your shop will be visible in online search results.

In today's world, "Google it" is an everyday phrase. When people are searching online for an auto shop in your area, isn't your shop the first one you want them to find?
You need a website to ensure your shop appears correctly in Google searches. Once you set up your website, you can focus on boosting the website's search engine rankings via search engine optimization (SEO). Over time and with the right tactics, your auto shop's website will move to the top of search engine results.
3. It is crucial to keep up with the competition.
Your competitors are likely to have modern, optimized websites, so it's imperative that you do as well. In order to ensure you stand out, make sure your website showcases all the amazing things about your auto shop. Be sure to make your website reflects your brand. It's the first place your customers will get to know you because it's the first place they'll look in their research. Your online reputation is your reputation, so don't overlook it!
4. It is a hub to answer your customers' questions.
Instead of having to call your shop to ask a question, a website allows your customers to learn everything they need to know about your shop without interrupting you. For this reason, it is important to list everything your customers will want to know – services, hours of operation, locations, directions, contact information, FAQs and more.
5. It provides a simple way for your customers to request an appointment.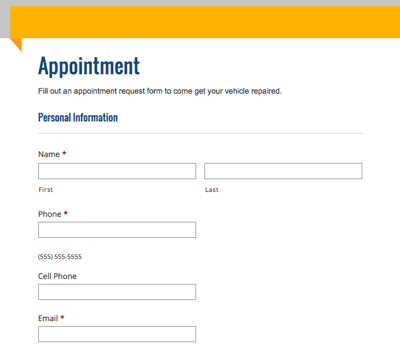 Gone are the days when consumers prefer to book appointments over the phone. People today want to skip the conversation and do things on their own. By providing an easy-to-fill out "request an appointment" form on your website, you can eliminate wasted time by allowing your customers to schedule directly to your calendar. Instead of discussing several possible dates and times over the phone, you can simply respond to the customer to confirm their appointment request. Imagine filling up your calendar without having to discuss logistics – you'll have more customers and you'll have more time to focus on the actual repairs!
6. A website will help you boost sales.
Last but not least, a website will help your shop grow. An optimized website will generate new leads and customers for your shop and will even help you close sales.
For example, if you have any special offers or promotions running at your shop, you can display and promote those coupons on your website. Promotions give customers an extra incentive to choose your shop, and as a result, you will increase sales and get more customers through your doors.
Another way to boost sales is by implementing social proof on your website. Gain customer trust by displaying customer reviews on your site. Studies show that 84 percent of people trust online reviews as much as they trust their own friends. By demonstrating your high-quality service through these testimonials, you'll grow your business and get new customers.
Don't maintain your shop - grow it!
If you're an auto shop that wants to grow instead of just maintaining business, an auto repair shop website isn't just a bonus, it's a necessity.
Attracting new customers in your local area comes down to being available on their preferred channel of research and communication. Don't hesitate to meet your customer base where they're at by providing a website that includes an easy way to get answers and book appointments. You'll be showing up in search engine results and scheduling new customers in no time!
---